EXCERPT FROM WFA MAGAZINE JUNE 2019
SUPER EXPO SPECIAL EDITION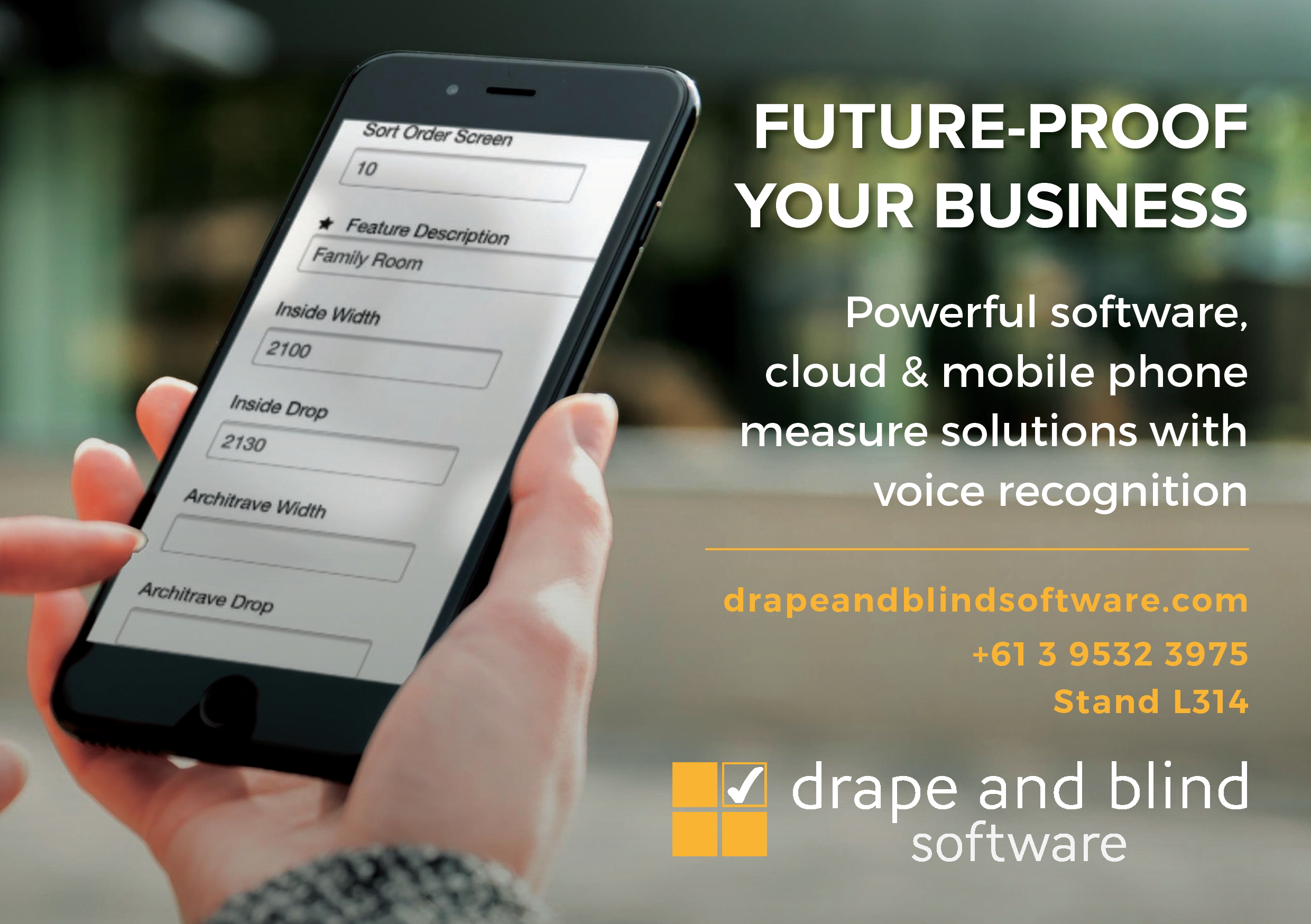 Drape and Blind Software is urging businesses to future-proof through cloud-based solutions.
"Don't just put your software in the cloud; put your entire business in the cloud on hardware that never dies while also meeting your business needs as you grow."
The company's offering encompasses "the most powerful window furnishings software available", backed by expert support staff. "Each member of our software support team has in excess of 25 years in window furnishings. When you explain your needs, we understand and have the knowledge to help you".
"That's why we are releasing our new add-on product, EMA, which speeds up your measuring process."
EMA stands for the new Easy Measuring App, designed to run on a mobile phone or tablet. EMA's voice recognition makes it even easier and faster to get window measurements into the system for quoting.
"Talk to EMA while taking the measurements and watch the numbers you read out jump straight into DBs. Take photos of the customer's window on your phone using EMA and have the photo linked straight into the quote against the specific window you are measuring".
Drape and Blind Software is designed to work with standard products like roller blinds, romans, venetians, verticals, shutters, panel glides and externals. In addition, what separates DBs from other software is the ability to work with complex soft furnishings from curtains to sheers, lined sheers or curtains with detached linings.
"Some products are even manufacturer specific. DBs allows you to add your own workrooms and their associated pricing. No other software allows you to enter a different costing method for soft furnishings for each workroom. No matter how your workroom calculates the making cost, DBs has the calculation method built-in."
"All you have to do is make the selection for that workroom's costing method. DBs does the rest. When you quote and change from workroom A to workroom B, DBs will cost the product accordingly.
Your sales staff do not have to concern themselves with costings. Normal fabric and continuous fabric calculations are all performed for you. Continuous fabrics can be used as a drop fabric if the window is too high."
"Come to Stand L 314 at Super Expo 2019 to experience the Easy Measure Application, and understand how Drape and Blind Software's powerful cloud-based solutions will help your business become for efficient."